Typically bullying is associated with strength and power, but we want to show kids and adults that strong/athletic people have ZERO tolerance for it –Nick Cicogna|Founder
"By selling athletic apparel I hope to make a statement and start a movement.  Take the power away from bullies.  I want to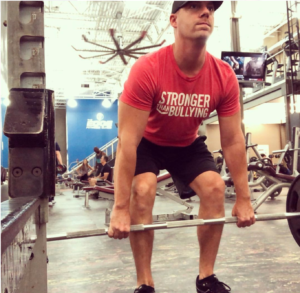 show kids and young adults that there is strength in numbers.  If they see my shirts being worn by athletes and gym enthusiasts, my hope is that it will give them comfort during this difficult time and know they are not alone.  I aspire to give people the confidence to stand up for others.  Sometimes it only takes a voice to put an end to bullying.
A large part of the proceeds from sales will go towards multiple anti-bullying foundations and individuals that are being affected; in attempt to bring a smile to their face. Give your support and show everyone that you are STRONGER THAN BULLYING."
Bring awareness about anti-bullying by starting an athletic apparel line.
Have athletes autograph memorabila with the inscription "Stronger Than Bullying" in hopes of auctioning off and donating proceeds to anti-bullying foundations
Have as many athletes as possible to wear our shirts and post on their social media.
Here Lindsey and Nick get extremely candid about feeling alone, the need for community and why they want to make a difference…